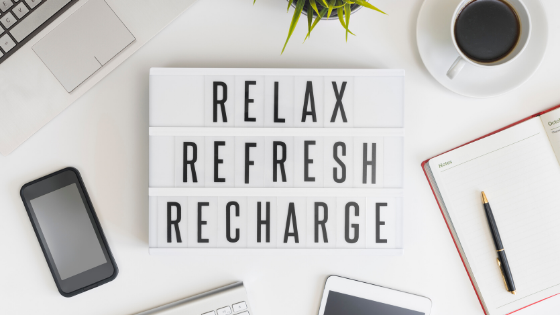 Now it's no secret that nursing can be a stressful job. With unsocial hours, long shifts and frequent exposure to some rather unpleasant situations nursing can be a tough gig.
​
However, in spite of this nursing is also widely regarded as one of the most satisfying and rewarding of career paths. Nursing agencies do go some way to redressing the work-life balance and offering better remuneration to their agency nurses, and while this often eases the load stressful days can still occur.
​
With the RCN reporting that two-thirds of nurses are "considering quitting" due to stress we thought it'd be prudent to share our top tips on the best ways to unwind after a stressful nursing shift.
​
It's time to give your stress wings and let it fly away!
​
More Tea Vicar?
Everyone loves a good cuppa, right? Well, it's no secret that a decent brew contains a wealth of health benefits.
​
Tea has long been part of traditional medicine in many Asian countries and is used to treat a host of ailments. Regular tea consumption has been linked to a lower risk of neurological disease and decreased stress levels.
​
The natural calming effects of tea make it the go to drink after a tough day at work. And to make it a real experience why not brew some loose-leaf tea or one of those fancy teas that come in a posh linen bag rather than your run of the mill PG tips.
​
Or maybe something a little stronger…
Okay, hear me out on this one. Now there's a lot to be said about the adverse effects that excessive alcohol intake can have on mental and physical health. But, if you're partial to a cheeky glass of vino after a long shift then fill your boots, everything in moderation, right?
​
And you'll be pleased to know that people who drink a glass of red wine a day are less likely to develop dementia, especially Alzheimer's, according to a study conducted at the Central Institute of Mental Health in Mannheim, Germany.
​
Pumping Iron
Working as an agency nurse can often be a physically demanding job, nurses can often walk miles whilst on shifts and often have to physically move patients and this can take a toll on energy levels at the end of long nursing shifts. But Exercise is one of the best ways to reduce stress, fact.
​
The endorphins that are released during exercise are stress-fighting hormones so more often than not you'll walk away from a workout feeling pumped, positive and with a real sense of self-accomplishment.
​
We know it can be hard to get motivated to workout after a long shift but you don't have to spend hours and hours in the gym (unless you want to of course) a session of yoga, a bike ride or a quick dip can all help alleviate stress and help you unwind.
​
And breathe…
In-out, in-out, in-out we all take breathing for granted, but as many agency nurses and midwives may be aware controlled breathing exercises can provide a simple, effective and convenient way to relieve stress and manage pain.
​
To really reap the benefits of this try an incorporate it into your daily schedule. Set apart 20 – 30 mins, find yourself a quiet space and remove yourself from the hustle and bustle of the everyday world for some meditation and breathing.
​
Sometimes it's hard to know where to start so here are a few breathing exercises examples from the NHS. Another nifty little tool is the Calm app, which is the number one app for sleep, meditation and relaxation.
​
Turn it up to 11
Listening to music can have a tremendously relaxing effect on our minds and bodies and as such is an effective stress management tool. Whether you're chilling on the sofa with a bit of classical or dancing around the kitchen to a bit of pop, music has the ability to consume our attention and as a result, provide a distraction allowing us to explore our emotions fully.
​
Singing (or mumbling) along to your favourite tunes is a great tension buster and help you immerse yourself even more.
​
Wash away the day
It's an oldie but a goodie. If your looking to destress after work you can't beat a good old bath. Throw a handful of magnesium-rich Epsom salts and a few drops of stress-relieving lavender oil in. Light a candle and soak the day's worries away.
​
You're not alone, everyone has stressful days. Most agency nurses can see more in one shift than most people do in their entire lifetime, so it's important to take care of yourself and find time to relax.
​
Here at MedGen, we try to promote positive mental wellbeing amongst our agency nurses and staff. We're always keen to hear from and share wellbeing tips and advice so feel free to get in touch with any of your top tips.
​
Whether you're a Healthcare Assistant, Registered General Nurse or an Emergency Nurse Practitioner if you're interested in working through the UK's premium nursing agency as an agency nurse register today.