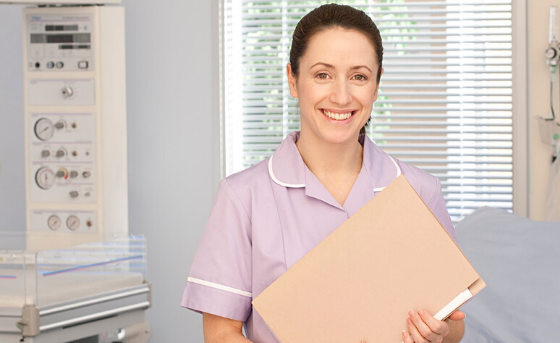 Healthcare assistants or HCAs are an integral part of the team that supports medical staff and patients in departments and wards throughout hospitals. Without the input of Healthcare assistants, wards wouldn't be able to function properly. The role requires the holder to be the key point of contact between patients and the wider medical team, undertaking essential daily tasks to ensure that patients are adequately looked after and dealt with.
​
Healthcare assistants typically work under the supervision of qualified nurses and carry out a wide range of tasks with the sole purpose of caring for, supporting and providing information to patients and their families. The role requires a great deal of flexibility as no two days are the same and a good HCA must be able to quickly adapt to their patients and the medical team's needs.
​
Some of the typical responsibilities of a Healthcare assistant might include but are not limited to:
​
Looking after the physical comfort of patients

Keeping departments clean and tidy

Taking and recording basic observations such as blood pressure and temperature

Helping patients to eat and to move about if they have mobility problems

Catheter care (as well as inserting/removing)

Wound care

Stoma bag care

Helping patients to mobilise and recover from surgery

Listening and talking to patients
​
Often, Healthcare assistants will be the first port of call for patients. In such a patient-facing role HCAs need to be able to show empathy, compassion and confidence. Interpersonal skills are crucial and help build rapport with nursing staff and patients, putting people at ease in sometimes uneasy and confusing times.
​
Becoming a healthcare assistant can be a fantastic career choice and offers a host of benefits such as:
Developing close relationships with patients and nursing staff

Opportunity to work in a fast-paced environment

Constantly in demand with opportunities nationwide

Exposure to experienced nursing staff and opportunities to develop on the job
​
Whilst it's desirable, no previous experience in healthcare is usually required to fulfil a role as a Healthcare assistant. However, MedGen does require all agency nurses and healthcare staff to have a minimum of 6 month's relevant experience in their field before being able to place them. Usually, HCAs will be assessed to see what competencies they possess and where they can be deployed.
​
The role of a Healthcare assistant is often the first foray for many into a career of nursing, with opportunities to progress to a nursing associate or fully qualified nurse the most obvious transition. If you're interested in HCA roles why not take a look at a list of our current opportunities here.
​
Whether you're a Community Nurse, Registered General Nurse or an Emergency Nurse Practitioner if you're interested in working through the UK's premium nursing agency as an agency nurse
register today. Alternatively,

click here

if you have any questions regarding pay rates or would like to speak to one of our expert recruitment team.​​