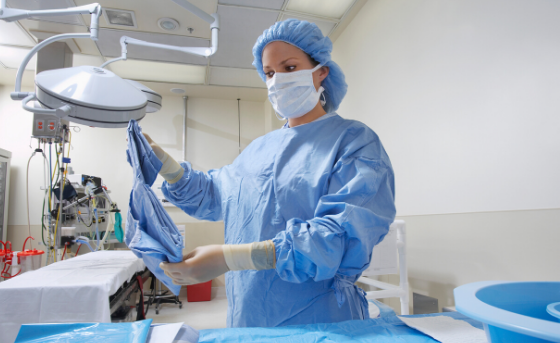 Theatre nurses are nurses primarily focusing on operations, surgeries and procedures. While there are a whole host of specialisations within theatre nursing, such as ophthalmology, obstetrics, cosmetic, the main aim of a theatre nurse is to work closely with the operating team. The role requires the holder to be flexible as many theatre nurse are responsible for a number of tasks through preoperative, anaesthetic, surgical and recovery phases.
​
Theatre nurses work with patients at their most vulnerable time, offering a uniquely rewarding yet challenging role. Theatre nurses work primarily in hospital operating theatres and anaesthetic/recovery areas; however, they can also be involved with procedures on wards, clinics or in other specialist areas. As people's lives are in the hands of the theatre staff, the role requires a confident, focused and cool approach, often under high pressure.
​
Some of the tasks that theatre nurses can be expected to be involved in are:
Preoperative phase
Informing patients about the risks and benefits of the operation

Ensuring they are in a good state of health for surgery

Providing information about the operation

Fielding patient's questions
​
Anaesthetic phase
Supporting the anaesthetist

Preparing specialist equipment, devices and drugs

Assessing the patient prior to the surgery
​
Surgical phase
Preparing all necessary instruments and equipment

Working with the surgeon to provide instruments, needles, swabs and other materials

Act as an intermediary between the surgical team and other parts of the theatre and hospital
​
Recovery phase
Offering the patient care and support

Monitoring the patient's ongoing health

Providing care and treatment until the patient has recovered from the effects of the anaesthesia and/or surgery

Assessing the patient to ensure they can be discharged

Assessing the care given during each of the perioperative phases
​
Theatre nurses are heavily involved throughout the whole operation and can often act as the key link between the patient and other healthcare professionals. A good theatre nurse needs to have a calm and friendly disposition to help develop the rapport and trust of patients in a short period of time. The ability to remain calm and communicate and listen carefully in a crisis situation is also imperative, especially in a busy and noisy operating theatre.
​
Becoming a theatre nurse can be a fantastic career choice and offers a host of benefits such as:
Developing close relationships with patients and nursing staff

Opportunity to work in a fast-paced environment

Constantly changing role with no two days the same

Exposure to experienced staff and opportunities to develop on the job
​
To become a theatre nurse you'll need to be a registered adult, child, mental health or learning disability nurse. After an induction period, you'll undertake specialist training to hone the specialist skills you'll need to successfully work in theatre. If you're interested in Theatre Nurse roles why not take a look at a list of our current opportunities here.
​
Whether you're a Community Nurse, Registered General Nurse or an Emergency Nurse Practitioner if you're interested in working through the UK's premium nursing agency as an agency nurse
register today.