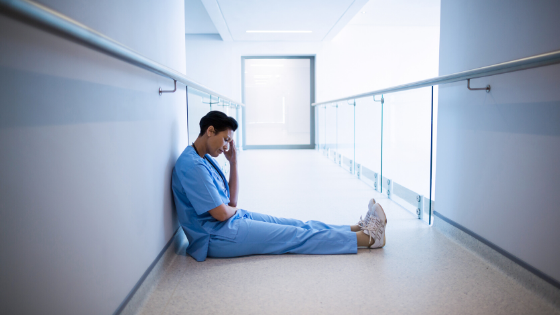 The importance of good mental health has gradually become more widely acknowledged and accepted. And subsequently, the stigma of suffering from poor mental health or reaching out for help has decreased. While there is more mental health support in the workplace more than ever for those suffering, as a society, we have a long way to go.
​
Many people are reluctant to speak up about the state of their mental health as they fear that it could lead to them being labelled and ultimately harm their career opportunities.
​
Mental health is still very much the elephant in the room- with employees in fear of discrimination and employers wary of exacerbating the situation or ending up with legal consequences. The situation can be a real catch 22 and can often lead to a situation spiralling out of control.
​
With the current state of the UK's healthcare system, there is an increased risk to nurses and other healthcare professionals as the ever-increasing demands of the role result in a daily struggle for most.
​
According to the mental health charity Mind, around one in four people in the UK experience mental illness each year. This staggering statistic proves that while positive steps are being made an unhealthy stigma around mental health persists.
​
The CIPD found that poor mental health is now the number one cause of long-term sickness absence (four weeks or longer) across the UK workforce, while stress is the third top cause.
​
"Mental health…is not a destination, but a process. It's about how you drive, not where you're going."

Noam Shpancer, PhD
​
It's tough being a nurse. It really is, there's no two ways about it. Nurses can be subjected to some truly awful scenes not to mention the long hours and high-pressured working conditions. However, the majority endure through a true passion for nursing and for this simple fact, nurses truly are superheroes.
​
But even superheroes need support when things get a little too much. I mean look at Batman, he's got Robin to confide in and support him when the going gets tough!
​
So, as a nurse, what mental health support in the workplace is out there for those that need it the most?
​
Well thankfully, there's a wealth of support out there for nurses who may not be feeling 100%.
​
1. The Royal College of Nursing
One of the best places to start is the RCN's Counselling Service. As an RCN member you can get free, confidential support and assistance to help you deal with challenging, emotional issues you may face, whether work-related or personal.
​
The RCN's guideStress and You advises how you can reduce stress and manage your responses more effectively, as well as what support to expect from your employer.
​
You can call the RCN on 0345 772 6100 between 8.30 am and 8.30 pm, seven days a week, 365 days a year. The counselling service operates over the telephone so you can access counselling at a time that suits you. One of their counsellors will phone you at an agreed time.
​
2. Nursing & Midwifery Council
The NMC also recently introduced a new emotional and practical support service for nursing and midwifery professionals involved in fitness to practise. They've partnered with CiC, a leading employee assistance provider, to give mental health support in the workplace advice and practical help and advice to all nurses, midwives and nursing associates during the fitness to practise process.
​
You can contact the FtP Careline on 0800 587 7396 completely free, 24 hours a day, 365 days a year.
​
​3. The NHS
An obvious one but a good one nonetheless. See the NHS Mood Zone for practical information, interactive tools and videos from the NHS, to help you look after your mental health.
​
The NHS Mood self-assessment quiz is based on tests commonly used by GPs to assess whether someone is stressed, anxious or depressed.
​
You can also get help and adviceon a range of workplace issues.
​
​4. Other Mental Health Support in the Workplace Resources
For more general mental health support you can always speak to an organisation such as Samaritans, Mind and CALM or the NHS.
​
It's great to see the ways in which society are progressing and acknowledging the presence and impacts of mental health on individuals. However, there is a long way still to go.
​
A stigma still exists and it needs to be confronted. Especially when it comes to mental health in the workplace. Employers are taking big strides forward and employees are becoming more forthcoming with disclosing their mental states but we need to continue to listen, support and accept that it's ok not to be ok.
​
If you're a nurse looking for part time work and flexible agency nursing shifts, get in contact with one of our expert recruitment consultants for a confidential chat about the options available to you. As your trusted nursing agency, we are with you day-in day-out and updating regularly update our site with resources, blogs and information to support you.