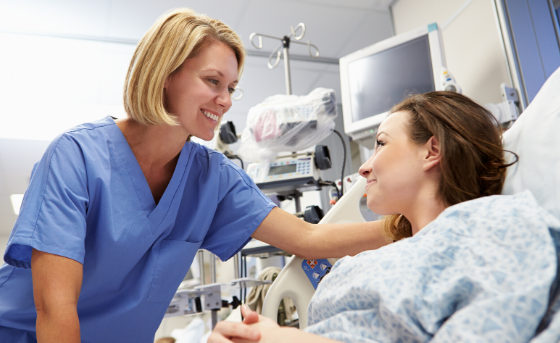 A&E nurses are often the first point of contact for patients as they enter a hospital setting. Primarily based in the emergency department of hospitals, A&E nurses tend to encounter a plethora of conditions in patients that are in a highly critical state. As the name accident and emergency suggest, the role of an A&E nurse is a highly pressurised one, where no two days are the same.
​
Usually, an A&E nurse will assess patients in the emergency department by taking vital signs and talking to the patient about what has happened. After the nurse has determined what the issue is, they will direct the patient to the correct place to get the right treatment for their condition.
​
It is imperative that the nurse is able to make sound reasoned decisions quickly. Due to the high number of patients coming into hospital, a good A&E nurse will be able to jump into any given situation and make a quick judgement. Decisiveness can be the difference between life and death in A&E and experienced nurses have an almost encyclopaedic knowledge of symptoms.
​
All departments encounter their fair share of difficult patients, but in A&E the number of rude or troublesome patients is disproportionately higher. Common gripes over waiting times, drunken and boorish behaviour are all too common up and down the country. A good A&E nurse will be adept at diffusing tension and keeping a cool head in demanding situations. Being able to deal with theses situations when they arise help ease the pressure on the whole department.
​
Accident and Emergency is home to a large multidisciplinary team and A&E nurses will find themselves working alongside a number of different medical professionals. The ability to relay key information from patients to medical staff and vice versa is another key skill that a good A&E nurse will possess. Nurses could find themselves working alongside all of the following professionals on any given day :
Consultants

Accident and emergency doctors

Paramedics

Radiographers

Trauma surgeons

Psychiatrists
​
A&E nurses will care for patients and ensure they are relaxed throughout their visit to the emergency department right up until they are discharged or moved to a different ward. Some of the typical responsibilities of an A&E nurse might include but are not limited to:
Maintaining care standards in accident and emergency

Assisting with checking in patients, doing triage work for doctors and generating initial insurance paperwork

Working with doctors to keep patients and their family members updated on test results or treatment recommendations

Maintaining contact with laboratory personnel to report any initial lab findings back to the A&E doctors

Making arrangements for patients that are deemed to need care requiring them to be admitted to the hospital for one night or longer
​
As mentioned previously, A&E nurses will be the first port of call for patients. In such a patient-facing role nurses need to be able to show empathy, compassion and confidence. Interpersonal skills are crucial and help build rapport with nursing staff and patients, putting people at ease in sometimes uneasy and confusing times.
​
Becoming an A&E nurse can be a fantastic career choice and offers a host of benefits such as:
Developing close relationships with patients and nursing staff

Opportunity to work in a fast-paced environment

Constantly in demand with opportunities nationwide

Exposure to experienced nursing staff and opportunities to develop on the job
​
Along with a bachelor's degree in nursing, MedGen requires all agency nurses and healthcare staff to have a minimum of one years' relevant experience in their field before being able to place them. If you're interested in A&E roles why not take a look at a list of our current opportunities here.
​
Whether you're a Community Nurse, Registered General Nurse or an Emergency Nurse Practitioner if you're interested in working through the UK's premium nursing agency as an agency nurse register today.