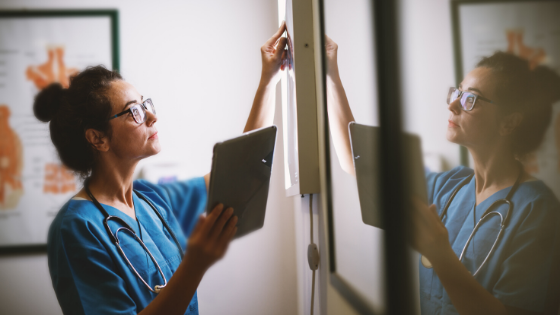 With staffing shortages, budget cuts and a lack of investment into development nurses are increasingly turning to nursing agency roles as a viable alternative to traditional permanent positions. While the transition may seem a simple process, it takes a lot to be a great agency nurse.
​
But what qualities does an agency nurse need to have to be great? How do they develop these attributes? And how do you make a smooth transition into agency nursing? In this four-minute blog, we look at what makes a great agency nurse.
​
​Defining what makes a great agency nurse
​
Show them what you got
A lot of the skills that any nurse has up their sleeve is instantly transferrable. The key is to draw attention to these skills and make them abundantly clear in your placements.
​
Remember first impressions are everything and when you're working on temporary assignments your colleagues and patients only have a short window to build up a picture of your manner, skills and professionalism.
​
Going above and beyond on these initial shifts will go a long way to cementing your status as a great agency nurse in the long run. It's also worth remembering that a positive reputation goes a long way in the industry.
​
The "definition of great"
Ok, so aside from the obvious what actually makes a great agency nurse?
​
Communication
Communication is key. As an agency nurse, you'll constantly be working with new people in new surroundings. Your new colleagues may not be able to pick up on nuances or subtleties which might be common in your everyday communication.
​
Communicating succinctly, precisely and clearly will help overcome barriers and put your colleagues and patients at ease, make them feel in control and feel valued.
​
Dealing with pressure
Handling tricky situations while maintaining a cool head is an art, especially for nurses. Colleagues and patients need to be sure that you know what you are doing in order to maintain order and preventing the situation escalating further.
​
As a nursing agency, we've found that those agency nurses who can remain cool even in the toughest of situations often earn recognition and prosper as a great agency nurse.
​
Flexibility
Now, this almost goes without saying. As an agency nurse working through a nursing agency, shifts are provisional. You need to be available to pick up shifts on bank holidays, nights and weekends. You also have to be willing to travel.
​
Some of the most successful agency nurses we see here at MedGen pick up all manner of shifts and are willing to travel a bit further afield. The fewer caveats to working that you have the wider pool of roles become available to you.
​
Stamina
Physically and mentally. It is well known that nurses work long hours which can be demanding on the body and mind.
​
Nurses are notoriously resilient as they have to put up with a lot. Agency nurses have the added stresses of travelling to unfamiliar locations, working irregular patterns with people that they may not know that well.
​
To be a great agency nurse you have to have an unshakeable resolve.
​
Attention to detail
Moving from ward to ward requires agency nurses to be on the ball. It is critical that observations and records are accurate to ensure levels of patient care. A great agency nurse can't afford to take their eye off the ball, even at the end of a 12-hour shift.
​
Empathy and compassion
As an agency nurse, you'll be constantly moving between locations. Being able to build up a rapport with your patients, understand their needs and connect with them on a human level is crucial to being a great agency nurse.
​
In areas such as A&E, the high number of patients coming through the door will require you to quickly build rapport and give each patient a part of your attention.
​
Do you have what it takes to be an agency nurse?
Are you interested in changing career? Maybe you'd like some additional advice on what opportunities are available to you? If you like the sound of working through a nursing agency or would like more information on being a great agency nurse then register your details here and our expert recruitment team will get in contact with you to discuss your options.