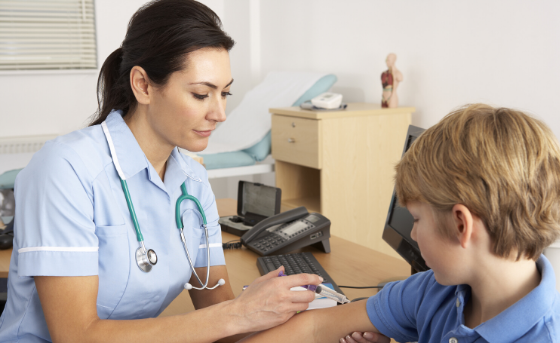 ​As a Paediatric nurse you'll provide care for children and teenagers of all ages, from birth onwards. As well as providing expert care to children, you'll also support the child's family, addressing their concerns, problems and options. A good paediatric nurse is highly observant, able to assess patients and take responsibility for determining the best course of action.
​
Working with young patients and their families is an area that requires sensitivity and good communication. Showing empathy and compassion whilst speaking with distressed parents or carers is vital for a Paediatric nurse to succeed. You will also be expected to be able to fully assess young patients who are unable to communicate verbally by interpreting behaviours and reactions.
​
Paediatric nurses can be based in a host of different settings from hospitals to homes and even in the community. You can expect to work with a number of different healthcare professionals from doctors, healthcare assistants and social workers.
​
As a paediatric nurse some of the typical responsibilities might include but are not limited to:
​
Identifying changes in a child's signs and symptoms and intervene in emergent situations

Explaining treatment and procedures to enable parents/carers to consent to treatment

Supporting, advising and educating patients and close relatives

Differentiating between normal and abnormal physical findings

Participating in the administration of drugs and injections

Determine a child's needs related to pain management

Evaluate a child for signs and symptoms of abuse

Provide supportive care to dying children

Preparing patients for operations and procedures

Setting up drips and blood transfusions

Maintaining and checking intravenous infusions

Assisting with tests and evaluations
​
Working as a Paediatric nurse can be a hugely rewarding role, however, it is important to realise that dealing with acutely ill and dying children can take its toll, making it essential that nurses going into paediatrics understand what kinds of issues can arise. Soft skills are as important as clinical knowledge when it comes to nursing children. A good paediatric nurse will possess the following skills:
Empathy - When dealing with patients and their families (being ill can be a scary time)

Critical thinking - Being able to quickly assess patients and to ensure they are receiving the correct type of care

Resilience - As mentioned, you'll encounter some tough situations. The ability to overcome and keep going is vital

Endurance - Shifts can be long and often at unsocial hours requiring a certain level of physical and mental endurance

Great communication skills - Having the ability to adjust the tone between young patients, their concerned parents or carers and doctors is key

Flexibility - You'll be expected to deal with a range of patients at one time often at a fast pace

A passion for working with Children - An obvious one but important nonetheless
​
Becoming a paediatric nurse can be a fantastic career choice and offers a host of benefits such as:
Developing close relationships with patients and nursing staff

Opportunity to work in a fast-paced environment

Constantly changing role with no two days the same

Exposure to experienced staff and opportunities to develop on the job
​
To qualify as a paediatric nurse, you'll need a degree in children's nursing and you'll need to register with the Nursing and Midwifery Council (NMC). You need to have completed an accepted pre-registration nursing programme in order to register, and these are only run at NMC approved educational institutions (AEIs). You can also explore a nursing degree apprenticeship, which has been recently developed to offer a more flexible route to becoming a nurse.
​
MedGen requires all agency nurses and healthcare staff to have a minimum of 6 month's relevant experience in their field before being able to place them. If you're interested in RSCN roles why not take a look at a list of our current opportunities here.
​
Whether you're a Community Nurse, Registered General Nurse or an Emergency Nurse Practitioner if you're interested in working through the UK's premium nursing agency as an agency nurse register today.