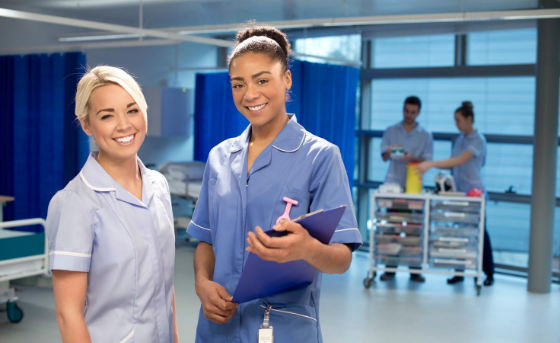 ​Whether you're a seasoned NHS nurse or have recently started your new career in nursing, you may find yourself asking 'What is an agency nurse?' and wondering if it would be a good career path for you.
​
With ongoing nursing shortages in the NHS and a continuous struggle by many healthcare professionals for better pay and working conditions, there is an increasing demand for skilled nurses nationwide. Many nurses who would have previously sought permanent positions across the health care industry are now exploring the world agency nursing and what benefits it can offer.
​
In this post, we'll define what an agency nurse actually is, why agency nurses are so important and what benefits agency nursing can offer compared with a perm position.
​
What is an Agency Nurse?
​
According to the English Dictionary, an agency nurse is 'a nurse employed by an agency, rather than by a hospital'. Pretty straightforward right? Typically, an agency nurse provides healthcare services for a number of different organisations in varying settings instead of just one facility. The agency liaises with healthcare organisations and offers agency nurses temporary assignments based on their location and specialisms.
​
The terms of work can vary from shift to shift and nurses can find themselves working within acute settings or in the community. Shifts are on a temporary basis for the majority of cases, however, long-term assignments do occur and block bookings can allow nurses to work for one provider for a significant period of time.
​
Why Are Agency Nurses Important?
​
According to the RCN, there are currently 40,000 nursing vacancies in health and care settings in England. That's a huge gap that healthcare providers need to fill to maintain patient safety. With such widespread vacancies, agency nurses play a significant role in filling that gap and ensuring that organisations are able to maintain a safe level of trusted healthcare professionals at all times.
​
Not only is there a shortage of qualified nurses but when permanent staff working for healthcare providers are unable to work through illness or other similar reasons agency nurses are available to step in and immediately and cover the vacant shift.
​
Without agency nurses supporting the NHS, continuation of services and treatments would be in a very difficult situation and the safety of thousands of patients would be at risk.
​
5 Real Benefits of Working as an Agency Nurse
​
Financial
One of the most obvious benefits that draw permanent nurses over to agency side is the financial remuneration for the work that they do. Nurses who are able to make themselves available can expect to pick up a number of shifts throughout the week resulting in a significant pay packet for the week. Working more unsociable hours often offer higher rates too, with some of the most lucrative rates being offered around bank holidays.
​
Flexibility
Whereas permanent staff have to adhere to rotas drawn up by their employers, agency nurses are able to pick and choose when and where they want to work. As mentioned previously, nurses with most availability and flexibility usually do well in agency nursing, however, if a nurse wanted to solely work night shifts to accommodate other commitments in their life they'd easily be able to do so.
​
Development
Agency nurses are exposed to a wide array of environments, people and situations that they may not necessarily have encountered in a perm role. Developing skills while performing tasks at work greatly increase the employability and value of agency nurses and often agency nurses are able to progress their careers at a faster rate than their permanent colleagues.
​
Support
Agencies not only place nurses into shifts, but they also act as their support network. Agency nurses can expect their agency to offer career guidance, on shift clinical advice and revalidation.
​
There's no one-size-fits-all mould to which all agency nurses adhere. They come from all walks of life with varying levels of experience and a wide array of experiences and specialisms. Without agency nurses fulfilling the immediate and ongoing shortage of nurses in the UK healthcare providers would struggle to adequately maintain safe staffing levels ultimately risking patient safety. Agency nurses continue to support the healthcare industry within the UK and provide an invaluable service.
​
Whether you're a Community Nurse, Registered General Nurse or an Emergency Nurse Practitioner if you're interested in working through the UK's premium nursing agency as an agency nurse register today.