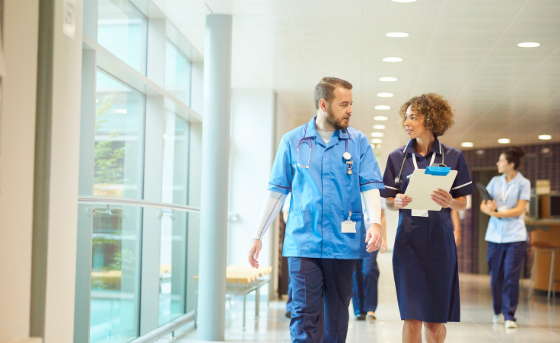 ​Autumn is here and winter is right around the corner. Typically the winter season in the UK is the healthcare industries busiest as temperatures drop and seasonal illnesses rear their ugly heads. If there is one thing that will make any temporary staffing bank manager blue this winter it's being short-staffed when patient numbers are creeping up and waiting times are getting longer and longer.
Now while shift staffing levels and patient numbers can be anticipated and navigated, the impact of Covid-19 and the unknown effect that it'll have on healthcare providers in the busy winter season is yet to be determined. With nurses already thin on the ground, it may be time to consider temporary agency nurses to help maintain safe staffing levels and ensure continuity of care.
We look at 4 ways agency nurses can support you this winter:
1. They can fill your existing skills gaps
All of our temporary agency nurses are highly qualified and have many years of experience under their belts. With a host of specialists immediately available, you are able to fill any gaps that you may be struggling to recruit for at just a moments notice. Get ahead of the seasonal rush by getting a skilled professional on-board now to fill any existing skills gaps you may have.
2. They can make an immediate difference
Experienced temporary agency nurses are able to hit the ground running and integrate themselves into new surroundings and situations seamlessly. Our nurses are used to moving quickly and understand the expectations of our clients. With potentially limted time for each assignment, tasks are completed quickly, accurately and on time allowing you to focus on other areas.
3. They help maintain safe staffing levels and patient safety
If you are finding that your employees are performing tasks that aren't quite up to scratch it may indicate that they are having to rush through tasks to get everything completed on time. Temporary agency nurses can help your teams get focused and relieve some of the pressure that may have been building up. This relief helps your teams to ensure that patients get the adequate attention that they require and that any serious safety issues are picked up and dealt with.
4. They can boost morale
Being overworked can really drain any employee of morale and sometimes causes some discontent amongst teams and management. Introducing temporary agency nurses alleviates this by easing existing workloads, meeting the seasonal demands and allowing existing employees to enjoy a work-life balance. All of these factors will contribute to greater morale on shift amongst teams.
Register today to get ahead of the seasonal rush
Temporary agency nurses are a valuable commodity heading into the winter season. They can assist your organisation in many different ways by reducing stress levels, keeping morale high and ensuring patient safety is maintained through the busiest of periods. Ensuring your employees aren't overworked is key to keeping patients and staff safe and stopping any fatigue induced mistakes occurring.
When the winter season hits staffing managers will undoubtedly be inundated with requests meaning that you may not be able to focus your attention on finding a trusted agency that can provide you with the talent you need. Registering your interest with MedGen today will ensure that our consultants fully understand your organisation allowing us to provide you with the best talent suited to your needs when the time comes.
To find out more about how MedGen can assist with your temporary staffing needs, get in contact with our team today.