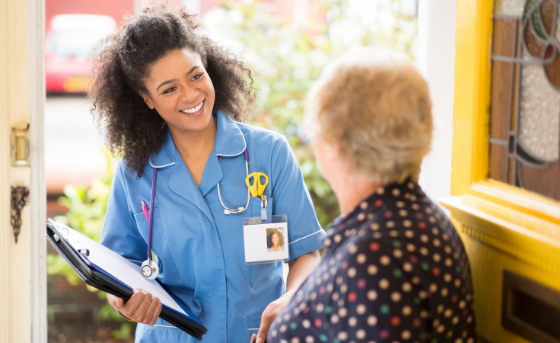 ​Nursing can open up a whole host of opportunities as a career and the path a nurse chooses is completely up to their own personal preference. With such a variety available, the daily duties and responsibilities of nurses wholly depend on the settings in which they are working. Generally, there are two main avenues in which nurses tend to choose, community nursing and hospital nursing, each offering its own challenges and rewards. In this blog, we'll take a look at the differences between the two when agency nursing and the benefits that each one presents.
​
Community Agency Nursing
As the name suggests community nurses work within the community and treat patients in a range of settings, for example, residential settings, General Practice facilities, in community hospitals, in police custody, at a school or in a care home. Community agency nurses play a key role in assisting an array of patients who may be vulnerable, disabled or who have complex care needs and find it difficult to attend hospital.
​
Rather than specialising in a specific condition, community nurses focus on promoting health and maintaining a degree of balance toward health. Unlike nurses based in a hospital setting, community nurses have a level of medical autonomy delegated to them. This is key in allowing them to make immediate medical decisions, implementing measures and initiating various health and group activities in the community.
​
These levels of autonomy mean that community nurses have to be more self-reliant and have the ability to deal with whatever the shift throws at themselves by themselves and without hesitation. Community nurses cannot always rely on handing over their shift to another nurse once they've finished meaning they must determine whether it is safe to leave their patients before finishing their shift.
​
With the focus more on treating the patient as a whole, community agency nursing allows nurses to build up a great rapport with their patients as they focus on not only the physical needs of the patient but the mental and social needs too. Whereas patients come and go in hospital settings, community nurses have the opportunity to treat the same patients over and over and build good relationships with their patients.
​
Hospital Agency Nursing
Due to the high volume and unpredictable nature of hospital patients, agency nurses working in hospital settings will find their skills and knowledge constantly tested. With the high turnover and short-term nature of hospital patients stays, working in a hospital environment can prove to be a great place to quickly develop clinical skills and further working knowledge. The fast-paced nature of hospital agency nursing means there is no time for complacency, and it is rare that agency nurses will experience workplace boredom whilst on shift.
​
As opposed to community nursing, nurses working in a hospital setting can rely on the support of wider multidisciplinary teams and are able to seek immediate help or support in challenging situations. Having the reassurance of working in a controlled environment and being able to hand over the care of patients to other nurses when the shift ends is one of the benefits of working in a hospital setting.
​
While community nurses can care for patients over a long period of time and see the results of their ongoing care, nurses in hospital settings tend to only see patients for a short period, unless they have a particular specialism. This can have an impact on nurses getting to build up a meaningful rapport with their patients or even see how their care affects a patient's health. For nurses with strong empathy, not being able to deal with a patient from the start of treatment to its conclusion can affect their feelings of job satisfaction.
​
As you can see, the differences between community and hospital nurses are significant, with both playing vital roles in the ongoing care of patients. Working in the community is not for everyone, as it requires a great deal of independent working. It's important that any nurse considering moving into community settings are aware of the level of autonomy that the role possesses. Some people will love it, but others will not. As it is such a subjective matter, nurses looking to move into agency nursing in either capacity must decide whether they are confident and competent in a residential setting or would prefer the support of a busy staffed hospital.
​
If you are interested in learning more about the range of hospital and community nursing roles that are available to you, register with MedGen today and be the first to hear about all our available opportunities.