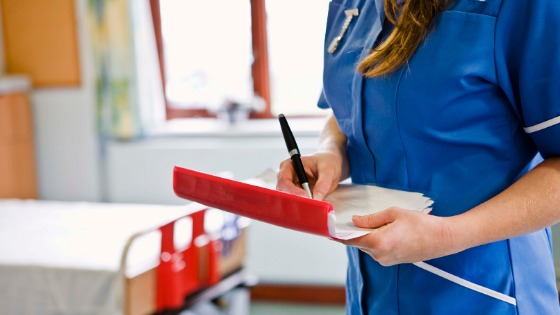 Why is NMC Revalidation Important?
​
Since 2016 the NMC has required nurses to revalidate every three years to continue their practice. NMC revalidation was introduced as a form of self-appraisal, to allow reflection, identify areas for improvement and give nurses the opportunity to demonstrate that they've met a range of responsibilities.
​
The process of revalidation can often be a stressful affair, especially for agency nurses who often don't have colleagues to turn to or seek advice from. But with the process a compulsory one and the increasing appeal of working through a nursing agency, it is important that agency nurses have access to the relevant knowledge and support to ensure they complete the process of revalidation accurately.
​
MedGen is committed to upholding the highest standards of practice and compliance and is on hand to offer all of our agency nurses a personalised NMC revalidation service once they are registered and fully compliant with us.
​
In this article, we've listed all the steps that agency nurses need to take to prepare for their NMC revalidation.
​
1. Sign up or sign in to your NMC online account
You can use your NMC Online account to manage your registration. Set up an account, it's free, and review your renewal date.
​
Don't forget your NMC revalidation date falls on the first day of the month in which you re-registered and occurs once every three years. Helpfully, the NMC notify you at least 60 days before your application for revalidation is due.
​
2. Practice Hours
To complete your NMC revalidation you'll need 450 practice hours in the last three years. However, if you have dual nurse and midwife registrations this increases to 900 hours. If you've practised for less than the required hours in the three years before the date of renewal, then you have to complete an NMC approved return to practice programme prior to applying for renewal.
​
You should keep a record of practice hours you have completed, including:
dates of practice

the number of hours you undertook

name, address and postcode of the organisation

scope of practice

work setting

a description of the work you undertook, and

evidence of those practice hours should be recorded
​
3. Continuing Professional Development (CPD)
You need 35 hours of CPD, with at least 20 of these being participatory, these need to be relevant to your scope of practice as a nurse, midwife or nursing associate.
​
What counts as participatory? Well, this could be attending face to face training, conferences, seminars and workshops. The remaining hours can come from self-study, relevant courses or online learning. The RCNi has many great CPD-accredited seminars and workshops that you can attend for free.
​
The NMC encourages nurses to maintain accurate and verifiable records of CPD activities, including:
the CPD method (examples of 'CPD method' are self-learning, online learning, course)

a brief description of the topic and how it relates to your scope of practice

dates the CPD activity was undertaken

the number of hours and participatory hours

identification of the part of the Code most relevant to the CPD, and

you should record evidence of the CPD activity.
​
4. Practice-related Feedback
Registrants will need a minimum of five pieces of documented practice-related feedback from when they've been on the register or they last renewed their registration. This feedback can come from colleagues, patients or service users, carers or student nurses.
​
5. Written Reflective Accounts & Discussions
You'll need to be able to provide five reflective accounts on what you learnt from CPD, practice-related feedback or an event or experience in your practice and how they are relevant to the NMC Code. It is worth noting that this should all be recorded on the form provided by the NMC.
​
Your reflective discussion should include the name and NMC Pin of the NMC-registered nurse, midwife or nursing associate that you had the discussion with as well as the date you had the discussion. MedGen are able to assist with your reflective discussions by pairing you with a qualified nurse.
​
6. Health & Character Accounts
The NMC ask people to complete a number of declarations in relation to their health and character when updating the NMC revalidation. You'll also need to disclose whether you have been convicted of any criminal offence or issued with a formal caution. You can refer to the NMC guidance when making these declarations.
​
7. Professional indemnity arrangement
You must provide the NMC with suitable evidence to demonstrate that you have an appropriate indemnity arrangement in place whilst practicing. It is a legal requirement to have an adequate indemnity arrangement in place when practicing and the responsibility to ensure it is in place is that of the individual. Failure to arrange indemnity cover will result in you being removed from the NMC register and barred from practicing. You can read more on indemnity from the NMC here.
​
8.Confirmation
Finally, you'll need a registrant who is already on the register to confirm that you have met all these responsibilities. Support in fulfilling the requirements of revalidation is available from MedGen's in-house nurse-led support team, who can also complete the reflective discussion and confirmation to complete your NMC revalidation.
​
It sounds a lot and it is, but you should bear in mind that this is an ongoing process through your career development and is a gradual compilation of all of the different aspects.
​
"I have just had my appraisal and revalidation done with Talent Muzyamba (Clinical lead). I found her to be very professional and understanding and put me at ease, guiding me through the process. I hope that she will be doing my revalidation again in 3 year's time." - Carolyn Warner – MedGen Nurse
​
We know that working as an agency nurse can make the whole process of NMC revalidation perplexing, that's why MedGen offers a complimentary revalidation service led by our in-house nurses for all of our agency nurses. We can take the stress and confusion out of the whole process and answer any questions that may spring up. If you'd like assistance with your NMC revalidation or more information about working as a nurse with MedGen contact our expert team on 0333 121 1000 or email Clinicalinterviewer@medgen.co.uk