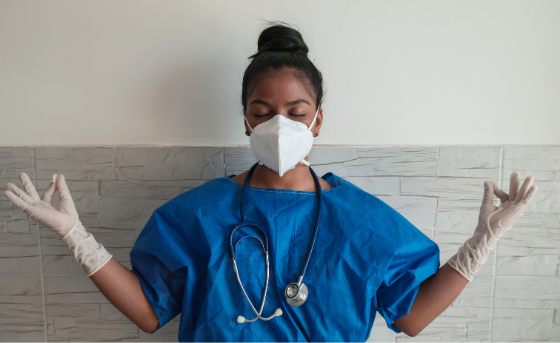 With the world seemingly turning on its head and the pressures mounting on the UK's healthcare system and those working in it, it can be easy to grow despondent at the state of the world. The immediate and lasting effects that the coronavirus pandemic has had on nurse's mental health has been well documented and numerous accounts of burnout and stress are almost a daily occurrence during the country's third lockdown.
While there are significant steps that need to be taken to address the issues of mental health in the nursing profession and the healthcare industry as a whole, there are some smaller steps that you can take to improve your mental wellbeing. In this blog, we'll explore what mindfulness is and how practicing mindfulness in agency nursing can contribute to maintaining your mental health.
What is Mindfulness?
According to Professor Mark Williams, former director of the Oxford Mindfulness Centre, mindfulness means knowing directly what is going on inside and outside ourselves, moment by moment.
​
According to Professor Williams "An important part of mindfulness is reconnecting with our bodies and the sensations they experience. This means waking up to the sights, sounds, smells and tastes of the present moment."
​
Can you remember the taste of the first sip of your first drink this morning? We're all guilty of operating on 'Auto-pilot' where our bodies and minds are so used to the patterns of routine, we are often mentally absent from everyday life. This way of living limits the experience of life, impacts the quality of our decision making and can enhance feelings of stress.
So, what is the best way to start practicing mindfulness in agency nursing? The best part is that mindfulness isn't something that is taught, every human already possesses it, the key is learning how to access it.
Why is Practicing Mindfulness in Agency Nursing Important?
Nursing can be a highly stressful profession and with the added pressures of seasonal demands and an ongoing global pandemic, the importance of good mental health is more than important than ever.
​
Practicing mindfulness offers a whole host of benefits from reducing stress, enhancing performance, gaining awareness through observing your own mind, increasing attention to others' well-being and reducing job burnout.
Being more mindful and receptive to your current surroundings can help further develop your relationships, both personal and professional. Also, talking and listening with a greater focus on what you are saying and what is being said results in a more effective means of communication, often key in crisis situations.
​
Ultimately the practice of mindfulness can help agency nurses focus more on self-care and respond more effectively to the challenges they face daily with greater fulfilment, flexibility and resilience.
​
5 Tips and Reminders for Practicing Mindfulness
Being aware of your thoughts, feelings, sensations and surroundings is one of the first steps you can take towards mindfulness. Try and incorporate some of these tips into your day-to-day life.
Be aware of your surroundings - Take note of what you can see, hear, smell and feel

Be aware of your breathing – Take a couple of deep breaths and pay attention to how you feel when inhaling and exhaling.

Be aware of your body – notice the feelings and sensations and any movements that your body makes.

Be aware of your emotions - It can be helpful to silently name any feelings or emotions that you're having to help develop your awareness. "I'm feeling tired/anxious/sad."

Be aware of your thoughts - Sometimes you can be overwhelmed with thoughts or worries. Mindfulness isn't about making these thoughts go away but how to approach and tackle them. Similar to your emotions, it can be useful to name the thoughts such as memories, worries, plans etc.
Practicing mindfulness in agency nursing has helped a lot of nurse's cope with everyday stresses and contributed to maintaining positive mental wellbeing. Incorporating a few positive mindful practices into your everyday routine could help boost your physical and mental health and have a positive impact on your professional life too.
​
There are a number of free resources that can be accessed to help with practicing mindfulness:
And it's also important to note that if you are a nurse struggling with your mental health and need help you can reach out to a number of organisations for support. Below is a number of organisations offering support to nurses:
The Royal College of Nursing
You can call the RCN on 0345 772 6100 between 8.30 am and 8.30 pm, seven days a week, 365 days a year. They also offer a counselling service over the telephone so you can access counselling at a time that suits you.
​
Nursing & Midwifery Council
The NMC offers emotional and practical support service for nursing and midwifery professionals. You can contact the FtP Careline on 0800 587 7396 completely free, 24 hours a day, 365 days a year.
​
The NHS
See the NHS Mood Zone for practical information, interactive tools and videos from the NHS, to help you look after your mental health. You can also get help and adviceon a range of workplace issues.
​
Other Mental Health Support in the Workplace Resources
For more general mental health support you can always speak to an organisation such as Samaritans, Mind and CALM or the NHS.
As your trusted nursing agency, we are with you day-in-day-out and updating regularly update our site with resources, blogs and information to support you. Follow us on Facebook and LinkedIn to get updates on agency nursing, support and vacancies.