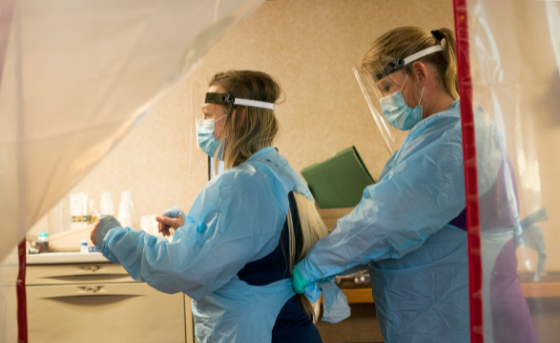 Health Secretary draws ire from many after claiming "no evidence that I have seen that a shortage of PPE provision led to anybody dying from Covid"
​
The Health secretary told a parliamentary select committee that in regards to health and social care there was "no evidence that I have seen that a shortage of PPE provision led to anybody dying from Covid"
​
In a move sure to infuriate many, Matt Hancock flatly denied that he'd seen any evidence to suggest that those working in health and social care had died as a result of shortage of PPE during the pandemic.
​
The Health Secretary then went on to say that 'What I do know is that PPE provision was tight, and it was difficult throughout the world, but we did manage – it was pretty close sometimes- but we did manage to ensure that at a national level we had the PPE.'
​
Labour MP, Sarah Owen, challenged the Health secretary's claims that there was never a shortage of PPE due to the action taken by the government asking 'How can you say that when we saw with our own eyes nurses in bin bags instead of proper PPE?'
​
Hancock's evidence drew ire, anger and condemnation from many health and social care workers online. Venting her anger on Twitter, Labour deputy leader, Angela Rayner, branded the Health Secretary a "liar" and accused him of trying to "rewrite history".
​
Rayner went on to tweet "we need a public inquiry now to hold this lying charlatan to account for sending our NHS staff into ICUs in bin bags and without PPE."
​
Rachel Harrison, National officer for the GMB union tweeted "Matt Hancock either has no idea what happened under his watch during the pandemic, or he is lying through his teeth.
​
Many staff were left terrified for their lives treating covid positive patients with either inadequate or non-existent PPE."
​
Hancock's testimony followed that of the Prime Minister's former chief advisor Dominic Cummings testimony in back in May. Cummings attacked the Health Secretary's handling of the covid-19 pandemic, accusing him of "lying to everybody on multiple occasions."
​
Cummings also claimed that the Health Secretary had falsely accused NHS England's chief Simon Stevens and the Treasury of blocking orders of PPE back in April 2020.
​
In response, Hancock claimed that "We took a policy decision that we should pay at the top of the market – that did require the Treasury to make that change," and that Cummings assertions weren't "a fair recollection of the situation"