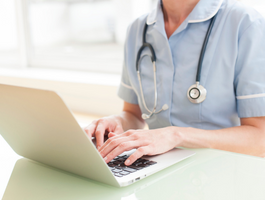 ​As an agency nurse, you will experience the benefits of earning extra money, avoiding repetitive routines, and controlling your work schedule. Through working in a variety of environments you will also get to meet new people.
​
Sounds great right?
MedGen have come up with 5 easy tips to help speed up your application process when applying to a new nursing agency and get you working immediately!
​
​
​
1. Work experience
This will vary according to the clinical area applied for. However, ensure you have a minimum of 6 months experience within the last 2 years.
Overseas candidates must have a minimum of 1 years experience working in this country.
If you have worked in this country for under 5 years you will need to obtain an overseas police check and an overseas reference from working in the country.
2. Documentation Folder
​
By keeping a folder with all the necessary documents for your nursing career, this will save a lot of time when a nursing agency requests them. This will also be helpful for your Revalidation.
Documents kept in this folder could be qualification/registration evidence, identification documents, CV, PVG certificates if applying in Scotland, training/compliance records, immunisation records, employment contracts and letters (e.g. Most recent council tax bill, bank statements, and evidence of name changes etc).
3. References
​
Under the NHS employer guidelines, you must provide references to cover 3 years of work experience, including one from a current employer. Often you will be asked for 2 clinical references from a nurse in a higher band than you.
4. Proof of address
​
Check that all proof of address documents are originals. For instance, no online bills/statements. Above all, the home office set this as a requirement.
5. DBS
​
Join the DBS Update Service. This will allow potential employers to instantly conduct your DBS check. If you are already on the update service or you are completing a new one, ensure all previous names are included on the certificate.
​
Whether you're a Community Nurse, Registered General Nurse, or an Emergency Nurse Practitioner if you're interested in working through the UK's premium nursing agency as an agency nurse register today.