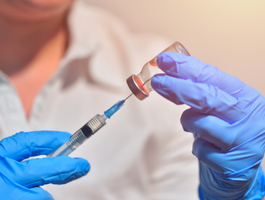 ​The announcement made by the Health Secretary stated NHS staff in England will have to be vaccinated by April.
​This has raised several concerns across the Healthcare industry.
​
Here's what you need to know:
​
While 90% of NHS staff are fully vaccinated, there remains 103,000 workers who have not had their first dose.
​
In aim to help protect patients and NHS staff, Sajid Javid told MPs that he expected to set a deadline for the beginning of April to give 103,000 unvaccinated workers time to get both jabs.
​
Further concerns have been raised that this could lead some NHS staff to leave their roles, adding to healthcare staffing issues.
​
The government's decision follows a consultation which considered whether both the Covid and flu jabs should be compulsory.
​
Mr Javid concluded that the flu vaccine would not be made mandatory.
​
NHS staff who are medically exempt and those who do not have face-to-face contact with patients will not have to take the Covid Vaccine.
​
In a Commons statement, Mr Javid said compulsory vaccinations would "protect patients in the NHS, protect colleagues in the NHS and, of course, protect the NHS itself".
​
He said the requirement would be enforced 12 weeks after parliamentary approval - likely to be from April.
​
From Thursday 11th November 2021, all care home workers must be vaccinated.
​
Scotland and Wales have not made any proposals to make Covid jabs compulsory for NHS workers or care home staff, while in Northern Ireland there is to be a public consultation.
​
Chris Hopson, chief executive of NHS Providers which represents England's NHS trusts, said the possibility of losing staff was a "real problem" as the NHS runs on fine margins and already relies on staff to work extra shifts.
​
Labour's shadow health secretary Jonathan Ashworth urged Mr Javid to proceed with caution - pointing to waiting lists "close to six million" and more than 90,000 job vacancies across the NHS.
​
There will be anxiety that chronic understaffing problems could be exacerbated, he said. "We simply cannot afford to lose thousands of NHS staff overnight."