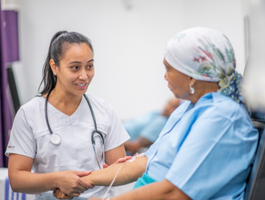 What is oncology nursing?
​
As an oncology nurse, you'll care for cancer patients in a variety of settings, from the inpatient ward to the bone marrow transplant unit, through to the community. Oncology nurses serve as a patient's first line of communication and help to coordinate the many aspects of their care throughout cancer treatment. For cancer patients, oncology nurses help them during the most intimate moments in their journey.
​
One of the main roles of oncology nurses is carrying outpatient assessments. This involves assessing patients who have presented treatment side effects, as well as assessing patients pre-, during and post-chemotherapy. The key skills looked for in oncology nursing are empathy, clear communication, encouraging, caring and coordination skills.
What are the main duties of an oncology nurse?
​
​Oncology nurses may perform a number of duties, including:
Assessing and monitoring the patient's physical and emotional status

Supporting patients through the side effects of cancer treatments

Keeping track of laboratory, pathology, and imaging studies

Safely administering medications, fluids, and cancer treatments, such as chemotherapy

Collaborating with the patient's doctors and other clinicians about the treatment plan

Helping patients understand the disease and their treatment plan

Reviewing the patient's health history

Helping translate complex medical terminology and answering questions

Communicating with the doctors and other clinicians on the patient's behalf
​
How to become an oncology nurse?
​
In most cases, becoming an oncology nurse will require a couple years of specialist experience or a postgraduate qualification in oncology to go with your nursing degree which is a minimum requirement.
A Master's degree in oncology will make it relatively easy to apply for oncology nursing roles, but practical experience is often sufficient too.
​
It's important to note that several oncology nursing roles are specialised. For example, a role focused on children or a specific type of cancer. In these instances, experience within the specific area will usually be essential.
​
What are the challenges of oncology nursing?
​
Oncology nursing can be emotionally draining as, despite your best efforts, some patients may not survive their illness. Also, a pressure lies in knowing that a small mistake can adversely affect a patient's health, so attention to detail is crucial.
Like any other nurse, Oncology nurses often have to distance themselves emotionally from the inevitable whilst still offering care and compassion to the patient and their families. However, because of the challenges stresses that come with caring for people with cancer, nurses who work in oncology often experience physical and emotional burnout earlier than nurses in most other specialities.
Find your next Oncology Nurse job today
If you are an oncology nurse interested in working through the UK's premium nursing agency as an agency nurse register today.