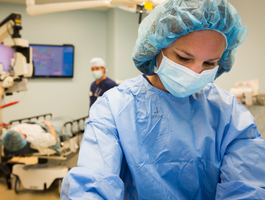 Nursing leaders have warned that many among the profession would "rather retire" or leave nursing altogether than be redeployed to work on Covid-19 wards once again during the omicron wave.
​
Meanwhile, others are feeling "worried" about the additional pressures they are now under in wake of new booster vaccination programme targets.
Prime minister Boris Johnson warned the country was "now facing an emergency in our battle" with Omicron, cases of which he said were doubling in the UK every two to three days.
​
​
The UK's four chief medical officers have raised the Covid-19 alert level across the nation to level four – its second-highest option, due to the "rapid" rise in omicron cases.
​
Mr Johnson also confirmed that two doses of a Covid-19 vaccine are "simply not enough to give the level of protection we all need".
He therefore announced that all those aged 18 and above in England would now be given the chance to have a booster dose before the new year – bringing forward his previously set target by a month.
​
"We know from bitter experience how these exponential curves develop," said Mr Johnson, referring to previous waves of coronavirus infection.
​
"No-one should be in any doubt – there is a tidal wave of Omicron coming."
​
He added: "Do not make the mistake of thinking Omicron can't hurt you, can't make you and your loved ones seriously ill."
​
The UK Health Security Agency today confirmed that at least 10 people had been hospitalised with the variant in England since it emerged in the country, and one individual diagnosed in hospital had died.
​
Of those admitted to hospital with Omicron, the majority had received two doses of the vaccine, according to the agency.
Mr Johnson warned that a "wave of Omicron through a population that was not boosted would risk a level of hospitalisation that could overwhelm our NHS and lead sadly to very many deaths".
​
Under the new vaccination programme plans, online bookings are available for those aged 30 and above from today.
​
The national booking service will then open to everyone aged 18 and over from Wednesday this week.
​
Separately, the Care Quality Commission has announced it would be "postponing" on-site inspection activity in acute hospitals, ambulance services and general practice for the next three weeks – except in cases where there had been evidence of risk to life, or the immediate risk of serious harm to people.
​
Unison's national nursing officer, Stuart Tuckwood, said the threat of a "tidal wave", as described by the government, of Omicron was making nurses "feel very nervous about what is going to happen next".